Orange Jelly
Ingredients
2 2/3 cups freshly squeezed orange juice
1 cup white sugar
1/2 cup boiling water
6 teaspoons gelatine powder

Method

Pour the orange juice into a saucepan then add the sugar. Stir over a gentle heat until the sugar is completely dissolved. Remove from the heat.

Pour the boiling water over the gelatine and whisk immediately to dissolve. Tip into the sweetened orange juice. Mix to combine and pour into a container. Refrigerate to set.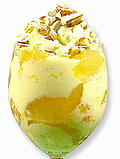 Trifle
Ingredients

1 Victoria sandwich cake, preferably stale
very good quality apricot conserve

3 tablespoons Grand Marnier liqueur
400ml pouring cream

5 egg yolks

2 tablespoons caster sugar

2 drops of vanilla extract

rind of 1 orange, optional

300ml double cream

30g split blanched almonds, toasted

4 arrowroot biscuits, chopped

orange jelly (prepared earlier, then cut into chunks)


Method

Cut the sponge cake into thick pieces. Sandwich the pieces together sparingly with jam. Pile them into a large glass serving dish. Pour over the Grand Marnier and leave to soak while you prepare the custard.

Put the pouring cream into a saucepan and scald by bringing to just below boiling point, then remove from heat. In a large bowl, lightly beat the egg yolks, caster sugar and rind with a whisk. Pour on the scalding cream, stirring vigorously.

Return the mixture to the pan and reheat carefully, stirring all the time, until the mixture is thick enough to coat the back of the spoon. Care must be taken not to boil the custard, or it will curdle. Add the vanilla extract and allow to cool.

To assemble the trifle, place the sponge, orange jelly and crushed biscuits into glass serving dishes. Strain over the cooled custard and leave to get completely cold. To serve, top with whipped cream and chopped almonds. Dust with icing sugar.